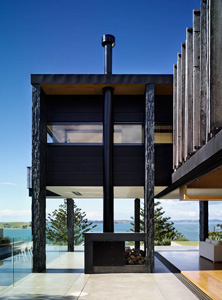 PSL Construction specialises in the construction and renovation of premium residential properties, servicing the greater Auckland area as well as the northern region, extending along the East Coast as far as the Bay of Islands. Established in the late 1990s, PSL Construction has a long-standing reputation for delivering excellence in both service and workmanship.
Maintaining these standards is important to us and integral to ensuring that the execution of your project, from design to completion, is straightforward and enjoyable. We're proud of our loyal and committed team and you can be sure that every tradesman involved in your project will be aligned with these same high values upheld by our company.
Our talented team of tradesmen, led by director Phil Leach, have the expertise to take on architecturally challenging projects. We work alongside some of New Zealand's top architects to create award-winning homes and our work has been recognised with House of the Year awards in both 2009 and 2012.
We have a passion for design and a dedication to helping our clients realise their vision through the use of varied materials and innovative architecture. We respect that your home is personal and unique to you; so while each home we create is different, our approach will always remain the same: to find innovative solutions and then simply get the job done right.
PSL Construction is a member of the Registered Master Builders Federation and is a Licensed Building Practitioner. We offer a 10 year Master Builder's Guarantee with a range of guarantee options which allow you the flexibility to choose what you want covered, and how much you want to be covered for.